Wedding season is a season which includes most of the sales of traditional clothing as everyone wants to show their ethnic look at this time. It brings happiness to the families of people as they build new relations and connections and it adds to our many memorable memories. There are also a lot of expenses that it brings along, but what if you get some sources to increase the inflow of your money? This article will share details about the top stocks for this wedding season which can increase the inflow of money to your pockets.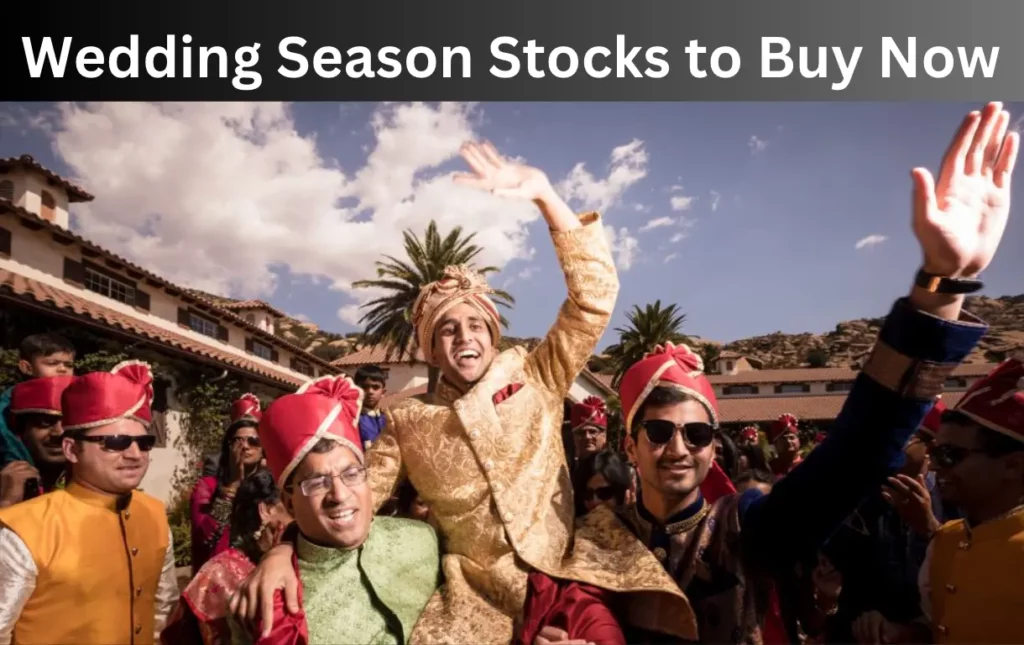 Top 10 Wedding Season Stocks 2023 to Invest Now
Titan: Titan is known for its watches but it also deals in jewelry, belts, and other fashion accessories which play an important role in giving the final touch to our look. People buy watches as they give a sense of status and it also increases one's confidence and self-image. As the wedding season has arrived, people will buy more accessories and jewellery which makes it the best time to invest in accessories and jewellery stocks. Titan made a profit of Rs. 2,173 crores in the last year.
Also, read Top Stocks to Buy for Diwali Muhurat Trading
Trident Limited: The company was at a profit of Rs. 834 Crores with a P/E ratio of 30.72 and EPS of 1.11, which brings you to another profitable stock that you can buy. The company deals in bedsheets, textiles, towels, paper, and chemicals. Bedsheets and towels are gifted by every household at weddings or any festive season which increases the chances of high profit and high returns.
Kalyan Jewellers: The company was at a profit of Rs. 224 crores last year with EPS 4.10 and a P/E ratio of 24.08. Jewllery is a part of Indian culture as people prefer buying gold on wedding occasions to bring good luck and wealth to their houses.
Thangamayil Jewellery: This is another famous brand for jewellery of gold, silver, and diamonds with last year's sales of 700 crores+ approximately. You will get 37+ showrooms in the country and also 13+ showrooms of silver.
Raymond: It made a profit of 260 crores last year with an EPS of 89.63 and a PE ratio of 14.45. The company specializes in readymade clothing like garments, shirts, and all types of quality fabrics.
Taj GVK: Taj is known by all for the hospitality services provided in their hotels, resorts, and restaurants and hotels always had an important role in weddings for parties. They made a profit of 210 crores in last year along with EPS 10.59 and PE ration 18.88.
Manyavar: This brand is known for its traditional men's, women's, and kids' outwear and people prefer the designs and the quality provided by them. They made a profit of 3149 million last year which shows the chances of high returns this year.
Welspun India Limited: The company deals in terrycloth and home furnishing which refers to the style of materials used in a house like decorative frames, cushion covers, vases, and statues. Items like these are widely used in the wedding season in the house and also hotels and party destinations which gives an extra touch of attraction for the place. The company made a profit of Rs. 601 crores in 2022 along with EPS 2.18 and P/E ratio 35.14.
Arvind Fashions: This company deals in textiles and fashion materials and we know that the textiles sector will see a boom during the wedding season. The company was at a profit of Rs. 238 crores in the last year along with 16.27 EPS, and a P/E ratio of 6.10 which shows the deep roots of the company in the market.
Hero Moto Corp: Wedding season can not be completed without automobiles and people are also ready to gift bikes and scooters to their closed ones.
These stocks belong to such industries which have a huge scope of high profits and high returns as these are related to the wedding culture of the country. The COVID year was a little difficult for these sectors as weddings were restricted due to the pandemic but the restrictions have been taken off now with the increase in these industries' profits again. Let us have a look at some more stocks that can be profitable this wedding season as a bonus to you.
Most Profitable Indian Wedding Season Stocks
Some other sticks related to wedding season are Libas, Indian Hotels, and IHCL. This is to be noted that these stocks are running on top in the current season but choosing the stocks is up to your own will and research. For more ideas, you can also mix the stocks related to Diwali and other upcoming festivals which can also help your money growth. For example, Asian Paints will also be preferable in such cases because people prefer renovation of their houses during both weddings and Diwali seasons. Stay tuned for more information on our website.